Protect your premises with access control
Access Control technologies play a critical role in protecting your facility. This ensures business continuity and safeguards your people, information, and other assets. Whatever premises you occupy, your basic security provisions must include the ability to control who enters which locations and when. Hence these control systems must act as an electronic gatekeeper, allowing for the free flow of authorised personnel while denying entry to unwanted visitors.
Control who is entering your premises and when
Protect employees, assets and information
Secure perimeters, buildings, floors, offices, storerooms, cupboards
Secure homes, apartment blocks, individual apartments etc
Integrate with other security systems
For a more detailed description – click here>
CLASS Access Control Solutions using SALTO inspired access
CLASS Locksmiths is a certified partner of SALTO Inspired Access.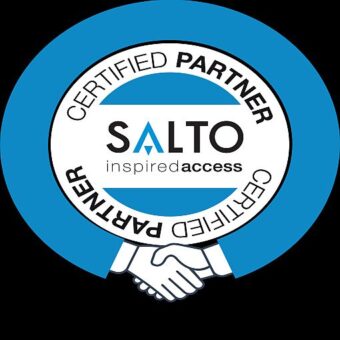 Looking for protection from uncontrolled access? CLASS can deliver the perfect solution – tailored to your exact requirements. And provide you with all the security, convenience and control you need using SALTO Inspired Access products.
Advantages of SALTO access control solutions:
Digital key smart access
Eliminate mechanical keys, lock replacements, and complicated systems configurations.
Control and security
SALTO's electronic locking solutions offer a smart locking platform that is keyless and mobile, meaning you can unlock doors with a smart key or use your mobile device.
Efficiency and Management Simplified
Ensure the management of your facility is secure 24/7 with SALTO Systems. Control access to doors, users, and keys with an integrated system that puts you in control of who can access the various areas of your business.
Occupancy Tracking
A significant number of people walk through businesses each day. SALTO offers a modern access system to control access for different people. Control the number of people coming in and out and track their movement in real time.
Emergency Preparedness and Intrusion Detection
SALTO systems offer you live reports on access activity, so you'll be notified of any after-hours access or intruders on site. Our systems aid in protecting against theft, vandalism, sabotage, and industrial espionage.
Visitor Management
SALTO systems' smart access grants certain visitors access and notes their movements. This is all without a physical handover of keys. Give visitors limited time to keyless smart access your facilities and ensure they leave with instant access revocation.
Easy Installation, door retrofit and low maintenance
Unique design for easy retrofit, applicable to existing standard doors preparation, making it simple and fast to upgrade traditional mechanical master key systems.
Built to work on every door, locker and access point in a building
Universally compatible, it can replace your existing door hardware and fits any door with unlimited model options.
Convenience and user experience
Meet users, staff and visitor security needs across the building with a keyless experience, increasing staff and guest security, peace of mind and user experience.
Seamless Integration
Integrates with building systems, security systems and property management software platforms including intrusion detection, CCTV & video surveillance, fire alarm, HVAC, and BMS platforms.