Protect your premises with access control
Access Control technologies play a critical role in protecting your facility. This ensures business continuity and safeguards your people, information, and other assets. Whatever premises you occupy, your basic security provisions must include the ability to control who enters which locations and when. Hence these control systems must act as an electronic gatekeeper, allowing for the free flow of authorised personnel while denying entry to unwanted visitors.
Control who is entering your premises and when
Protect employees, assets and information
Secure perimeters, buildings, floors, offices, storerooms, cupboards
Secure homes, apartment blocks, individual apartments etc
Integrate with other security systems
For a more detailed description – click here>
Access Control Solutions
Our electronic access solutions offer user friendly, stand-alone systems that provide flexibility, security and convenience. So you can operate safely in today's demanding security environment.
CLASS Locksmiths can advise you on the best system and solution to suit your home or small business.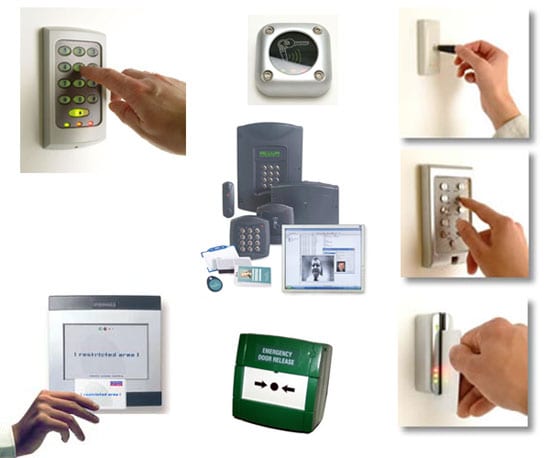 And we are agents for a large number of access control and keyless entry products:
Keyless entry
Swipe card entry
Audit trail
Wireless
Self managed
CLASS managed
For smaller applications, a CLASS managed system may be most suitable and cost effective. This eliminates the need for you to acquire specialised technical skills and knowledge. And we can maintain your system for you and provide on-going management and maintenance services as and when you require them.
CLASS has a team of highly trained and experienced specialists who will help you:
Select the most appropriate system (technology and hardware) and solution (design strategy, policies and processes) to meet your required level of security and budget
Develop, install, and implement a secure solution to provide maximum integrity of access and future expansion capability
Develop and implement key control policies and processes to safeguard the life, property, and security of people and assets.
Provide ongoing expansion and maintenance services.
Our access control systems empowers you to swiftly and easily:
Add, modify or delete user access
Download audit trails
Generate system reports via management software for comprehensive site security reviews
Whether you require a fully networked solution or stand alone control for one door, implementing an access control system to your facility will help your organisation maintain security, integrity and control user access in several ways with many associated benefits.
Secure company assets
Limit critical area access to people with a designated need. Program common areas for unlimited access. Update effortlessly as circumstances change.
Manage Security from One location

Link multiple facility systems to a central server so that you can monitor access points and manage user databases from one location.You can even manage your Access Control system through a web portal.
Cost effective ownership

Technology improvements like smartcard swipe cards, battery powered locksets, wireless networks and even electronic cylinders are just a few of the features that now make access control systems easier and more affordable to install, run, modify and expand.
Easy to use software, reduced cabling and inexpensive programming can all dramatically lower the cost of managing your facility and keeping it secure. With an access control system, you have the power, flexibility and control.
Call us for an obligation free consultation on the best solution to meet your needs.